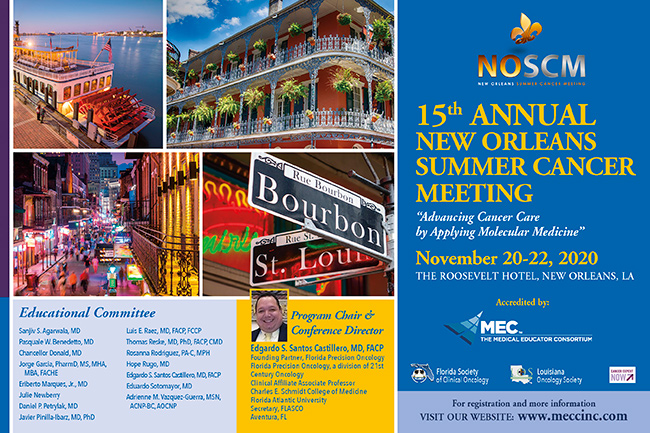 15th Annual New Orleans Summer Cancer Meeting (NOSCM)
We have been monitoring the COVID-19 situation and feel a true responsibility for health and safety of our attendees, speakers, pharma partners.  New Orleans will be transitioning into phase II soon, and out of respect for the current situation and to keep all of you safe, we have decided to move our beloved 15th Annual New Orleans Summer Cancer Meeting (NOSCM) to November 20 – 22, 2020 at the same venue, The Roosevelt Hotel. 
We will of course continue to monitor guidance from the CDC and other authorities in regard to the Coronavirus developments. The situation regarding COVID-19 is fluid and ever-changing and we will remain open as new information and guidelines emerge and follow best practices. 
This three day conference is designed for medical oncologists, radiation oncologists, surgical oncologists, advanced registered nurse practitioners (ARNP), physician assistants (PA), oncology nurses, registered pharmacists, pharmacy technicians, and radiation therapists. General practitioners (internal medicine and family medicine) will have the benefit of a review of the standard of care and new developments in cancer therapy. Residents in training and fellows from these specialties are encouraged to attend.
Register Now
We're happy to share with you that we have created a special discount code to extend a 25% discount to all FLASCO members that register online for the WCS, MCM and/or NOSCM events:  Discount code:  FLASCO25